Top 500 family businesses worldwide contribute roughly 9 trillion US dollars to the global GDP and employ nearly 25 million people. According to the US Bureau of Census, 90% of American companies are family-owned or controlled and account for 50% of the country's employment. In India, family businesses contribute over 70% of the national GDP. Family business is the basic fabric of economies across the world.
Family-managed organizations have certain common characteristics, though there are some exceptions. These companies manifest certain cultural traits which distinguish them from non-family managed companies.
Organizational culture is like the earthen pot which holds people management within it. Just as water, people management takes the shape of the pot. In fact, organizational culture evolves over time, shaping and re-shaping people management, influenced by several factors. These are (a) stage of evolution of the organization, (b) environmental/economic challenges, and (c) owner family culture [see figure below].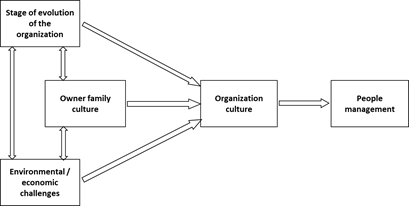 To know more about how human resource management is shaped and re-shaped in family-managed organizations, read my short articles coming up soon.
To know more, feel free to contact us: https://eumatterconsulting.com/org-design-and-dev/